COVID-19:Ports, Customs Service to continue operations during Easter holidays, says Nigerian Shippers' Council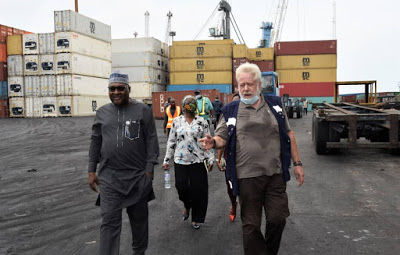 The Nigerian Shippers' Council on Wednesday gave assurances that the ports as well as the Nigeria Customs Service would remain in operation throughout the period of the Easter holidays from Friday, April 10 through Monday, April 13, 2020.
Executive Secretary of the Council, Hassan Bello, made the disclosure while on a working tour of the Five Star Logistics Terminal at the Tin-Can Port, Lagos.
Bello noted that "Nigeria, like other countries, cannot afford to close down ports. This is to allow cargo flow, particularly pharmaceutical products, industrial raw materials and hospital equipment amongst others.
"The Nigeria Customs Service and the terminals will operate during this period. Freight forwarders, logistics providers and shippers should take advantage of this opportunity to take delivery of their cargoes out of ports."
The Council, however, made an important note that "Only those who are at the point of taking delivery of their goods are expected to be at the ports."
In that vein, freight forwarders were advised to ensure all documentation processes including shipping company release (DO) and (TDO) from the terminals are perfected by Thursday April 9 2020.
Commending the terminal for a well-kitted personnel on ground for operations, Bello said that the Nigerian Shippers' Council was working tirelessly to sustain port operations at this time of the COVID-19 crisis.
In his response, the General Manager of the terminal, Mr. Wolfgang Schneider, informed the Shippers' Council management that only essential staff come to work.
He also disclosed that the terminal has over 5000-6000 vehicles ready for delivery during the Easter public holiday.
Schneider complained of limited space for storage, just as he appealed for intervention by the Council to enable them use barges for movement of cargoes from the port.